Domestic Well Information
Domestic Well Information
If your domestic well has gone dry, please contact Tehama County Environmental Health at (530) 527 - 8020
Water Containers Available to Residents with Dry Wells
Thanks to a grant from Community Foundation of the North State, Tehama County Environmental Health was able to purchase 2.5, 5, and 7 gallon water containers for distribution.  Residents receiving water containers must have filed a dry well report with Tehama County.
Water containers are available at Tehama County Public Works and Tehama County Environmental Health.
Well Drillers in Tehama County
Currently Licensed and Bonded C-57 Drillers in Tehama County
(Provided by Tehama County Environmental Health on July 1, 2021)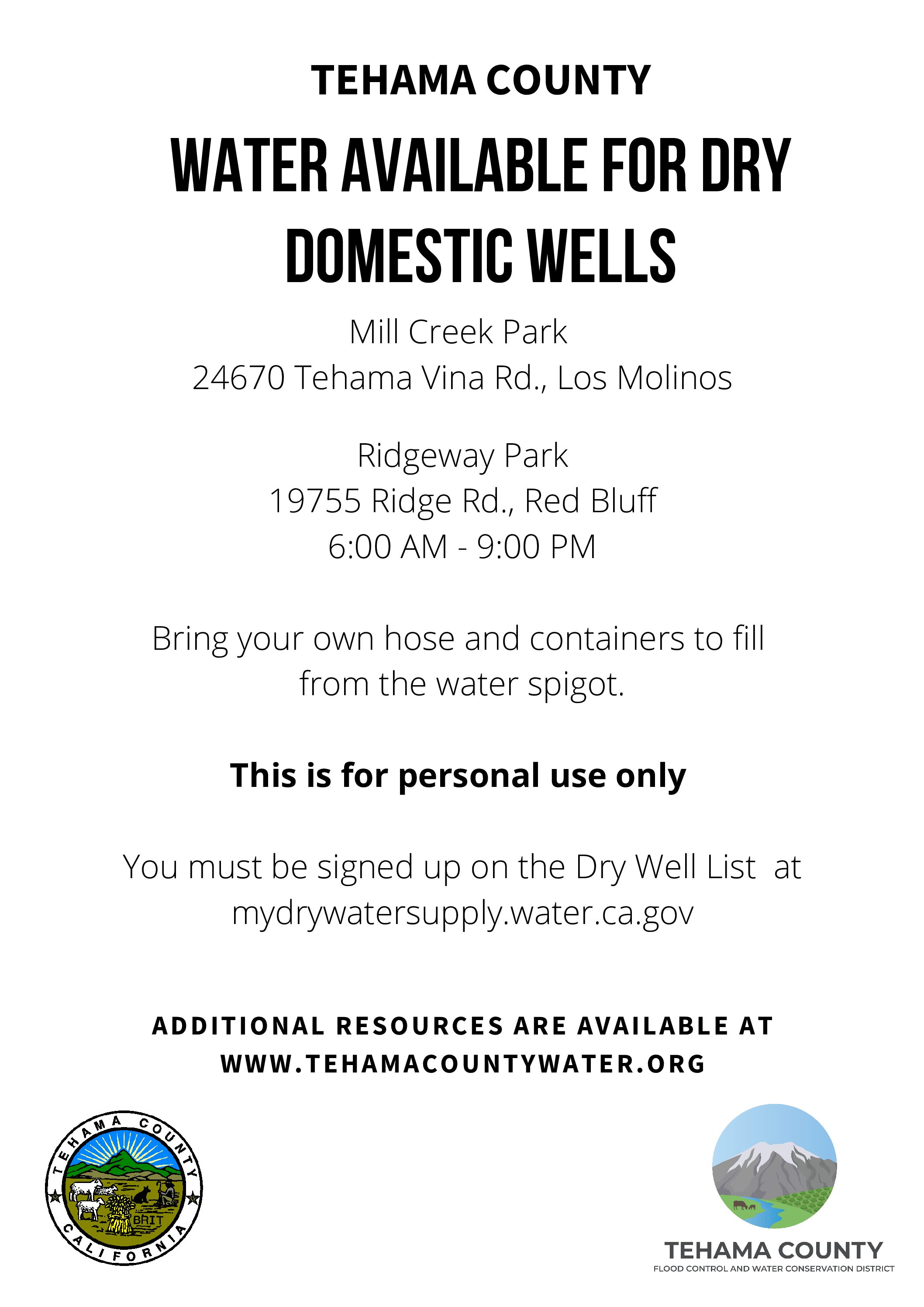 Household Water Supply Shortage Reporting (My Dry Water Supply)
This form is for use by local, state or tribal and federal agencies receiving calls from individuals not served by a public water system experiencing problems with water supply.
Rural Community Assistance Corporation (RCAC)
The Household Water Well System (HWWS) Loan Program is a low-interest rate loan program to assist individual households in the refurbishing, replacement, or construction of a household water well system.
USDA CA Drought Assistance
Rural Development, an agency of the United States Department of Agriculture (USDA), delivers a number of programs to help improve the quality of life in rural communities throughout the nation. These programs may also help rural communities, businesses and individuals impacted by California's ongoing drought conditions.
My Well Has Gone Dry
What are some early signs that my well may go dry? What might cause my pump and well to have problems or go dry? My well has 'gone dry,' how do I begin to address the problem? What can I expect by contacting local authorities? View the brochure for the answers to these and many more questions.
Proactive Domestic Well Owner
What does it mean to be a proactive owner of a domestic well? What are the basic components of a domestic well water system and how does it all work? What information do I need to foresee a potential water supply problem? View the brochure for the answers to these and many more questions.
Where Does My Domestic Water Come From?
What does the groundwater basin where I pump groundwater look like? How is the groundwater recharged or refilled in the groundwater basin? How many groundwater wells are there and where are we pumping our water from? View the brochure for the answers to these and many more questions.